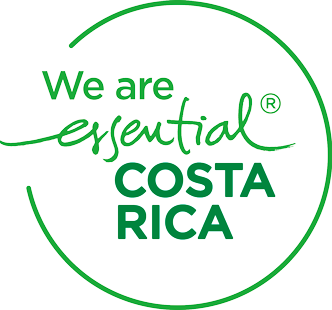 Essential Costa Rica
In essence, Costa Rica is a compact country with a unique and select wealth mainly produced by its citizens.
Our essence concentrates the large richness of our land, home of world acknowledged natural beauties, and high quality colorful and flavorful fruits. A land that, in spite of representing only 0.03% of the global territory, is home to 5% of the world's biodiversity, and with a population of 4.6 million people, it produces and exports more than 4,500 products to 146 countries.
People are also a part of our essence, working, talented and trained Costa Ricans, ready to take on highly specialized jobs. Authentic, supportive, entrepreneurs, hard workers, innovators, pura vida... Costa Ricans form a nation proud of its legacy and willing to make history in the world.
Tourism Company License
Values and Attributes
Our Country Brand is leveraged in four attributes that nourish and differentiate it. From them the deepest characteristics of the ethical people emerge, define us and mark our essence.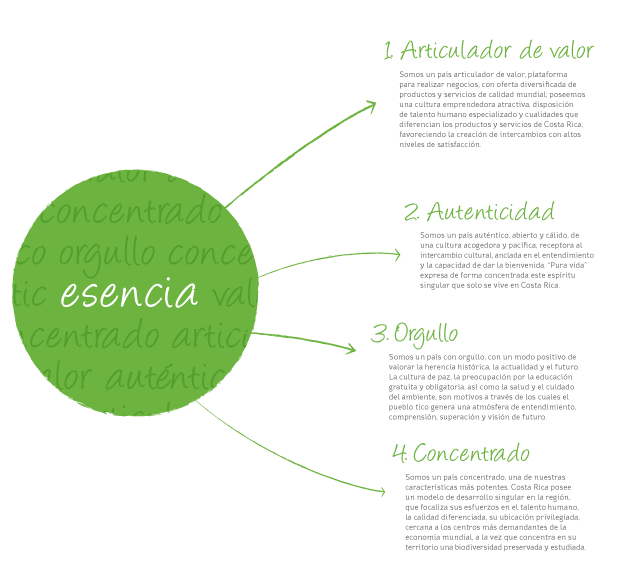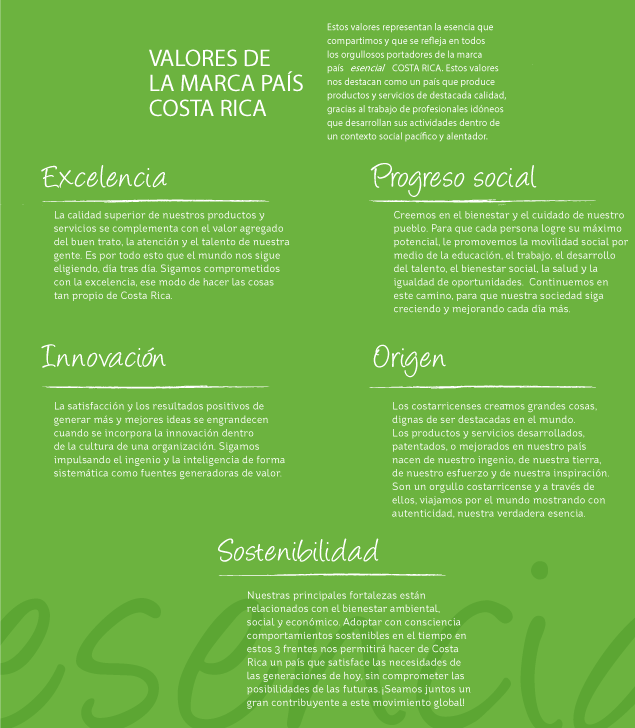 Country Brand Concept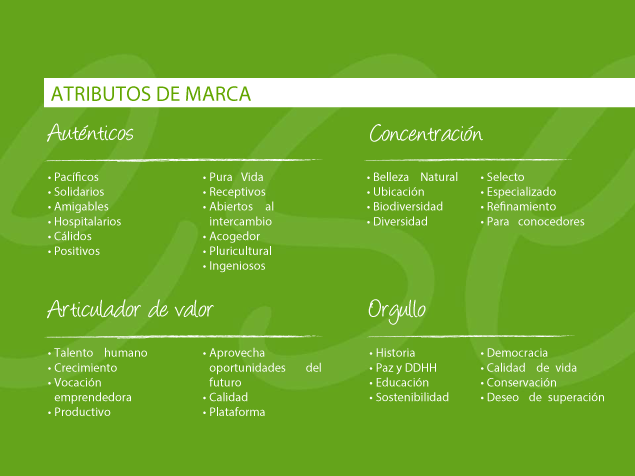 Contact Us
Cinthia León

This email address is being protected from spambots. You need JavaScript enabled to view it.

Tel: +506 2299-5749
Melissa Tencio

This email address is being protected from spambots. You need JavaScript enabled to view it.

Tel.: +506 2299-5746
Mariana Garita

This email address is being protected from spambots. You need JavaScript enabled to view it.

Tel.: +506 2299-5748
List of National Brand companies licensed, tourism sector.
Destination Costa Rica
Grayline
Expediciones Tropicales 
Horizontes Nature Tours
CAST
Costa Rica Reps DMC 
MTA Miki Travel
Asuaire
Mapache rent a car
Costa Rica Sun Tours
Toyota Rent a Car
ANC CAR Alamo y National
Swiss Travel Services / AV Cielo Azul
Cactus Tours
Futuropa
Costa Rica Convention Bureau
Hampton Inn & Suites 
Hotel Wyndham Herradura
TAM Travel
Centriz  (antiguo Budget)
Costa Rent a Car
Aventuras Tierra Verde
Vemsa
Tui Destinations Expiriences Costa Rica
Hotel Crown Plaza
Holiday Inn Express San José Airport
Best western Jaco Beach Resort
Ram Luna
CANATUR
Best Western Irazú
Unique Adventures
CANAECO
Times Square
Hotel San Bada
Costa Rica Top Tours
Ecole travel
Parque Viva
Veragua Rainforest Eco Adventure
CRS Tours
Rainforest Adventure Lodge
Sixt rent a car
Agencia de Viajes Colón
Journey´s Costa Rica
Best of Costa Rica
Hotel Parador 
Wave Expeditions
Caturgua
Costa Rican Trails
Camino Travel
Rainforest Adventures Pacífico
Travel Excellence
Hotel Villa Bosque
Vision Sports Travel 
Apartotel Suites Villas del Río
Agencia de Viajes Receptiva Exploratura
Asociación Pro Imagen Costa Rica
ARMOTOURS
Pacific Trade Winds
 IL VIAGGIO TRAVEL
ACOPROT
Agencia de Viajes Aratours
Adobe Rent a Car
Tryp San José Sabana
Turvisa
Kaffa Café
Colinas del Sol
Exploradores Outdoors
CAFEOTECA
Sensoria 
Daily Tours 
Los Pinos Cabañas & Jardines
Global Events 
El Mangroove, Autograph Collection
Ride CR
Payless CR
Boutique Jade 
Belmar
Hotel y Restaurante La Casona del Cafetal
Costa Rica Bird Observatories
Elemento Natural 
Trans Mira Tours
Go Costa Rica vision
Hotel  Robledal
Vacaciones Diseñadas Terranova S.A.
Museo de los Niños 
SinwaTour Dreams & Monteverde Express Shuttle
ID Meetings Costa Rica
Agencia de Viajes Localista 
Laguna Lodge 
Costa Rica DMC
Dream Travels
Vista Los Sueños Adventure Park
Ocotea Monteverde S.A.
El Viejo Wetlands & Private Refuge
Origen Extraordinary Escapes
Rinconcito Verde 
Silvestre
Cala Lodge
Centro de Convenciones de Costa Rica
Xandari Resort & Spa
Aerobell Airlines 
Asociación Camara Costarricense de Restaurantes y Afines ( CACORE)
Costa Rica te enamora
Hotel Real Intercontinental
Relaxury 
Rancho La Botija
Hacienda Guachipelín 
Cinco Ceibas Rainforest Reserve y Adventure Park
FuncaViajes 
Surcos Tours
Volaris
Museos del Banco Central de Costa Rica
Agencia de Viajes Rutas Aéreas
Cocomar
Diamante Eco Adventure Park
Terra Incógnita 
Studio Hotel 
Amstar DGT Costa Rica Ltda
Canoa Aventura
Maquenque Eco-Lodge
Casitas Tenorio S.A
CR Magic
Osa Wild 
Panache Sailing
Vesa Tours
Water Bike Tours
Artesanias La Rueda
Mardigi Tours 
Caminando Costa Rica
Hotel Kalon Surf
NAPRAIA SEAFOOD & RAW BAR
Teatro Nacional de Costa Rica
Koora Hotel & Spa at Monteverde 
El Tigre Water Falls
Hoteles Casas del Toro
Quercus Travel
DOKAESTATE
INTERVIAJES
Donde Pipe Restaurante y Café
MFC Producciones
Last Update 02-02-2021