The Human Resources Department is in charge of the processes needed to direct the human talent at Instituto Costarricense de Turismo (Costa Rican Institute of Tourism), starting with recruitment, selection, training, performance evaluation, rewards and the general well-being of the employees, all for the sake of productivity, transparency and the achievement of objectives and institutional goals.
Human Resources Structure Department
Instituto Costarricense de Turismo
July 2016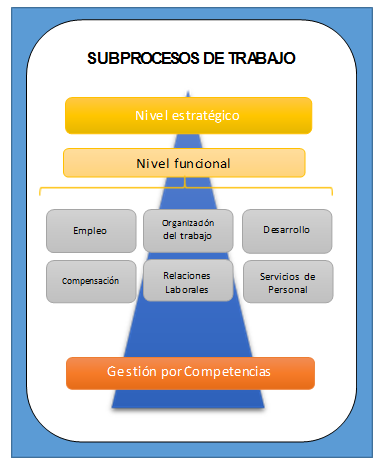 The Human Resources Work Sub Process Components are detailed as follows:
Strategic Level: Made up by Management and Coordination. It considers the existence of active human resources planning, at a short, medium and long term time span, which prioritizes the quantitative and qualitative needs, based on diagnostic tools in order to incorporate, in a centralized way, the priorities and strategic orientations with correct budget management.
Functional Level: Responsible for the execution of functions and their own sub process operations, related specifically with Employment, Organization of the work, Development, Compensation, Labor Relations and Personnel Services, made up by the practice of stages and functions of what each of them should develop, such as the quota functional support of the needed strategic level.
Human Resources Work Sub process:
Information about available places
At this time there are no places available.